Studies with Panels  for just $0.15 – 0.75 / complete
Now you can run Mechanical Turk studies using your own Requester account and specify over two dozen demographic traits!. The traits include gender, ethnicity, age, marital status and sexual orientation. But it does not stop there! The available options also include occupation, medical and health history, cell phone use and much more.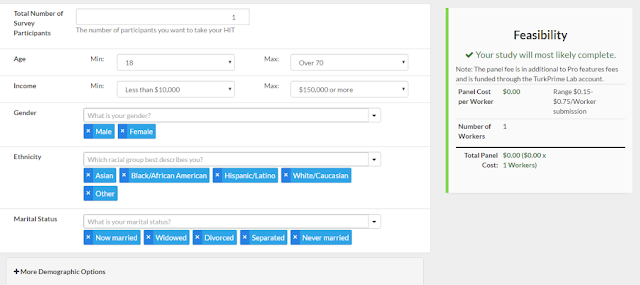 The cost ranges from $0.15 – $0.75 per completed assignment. For example, if you run a study with a panel of 100 White Males 40 and under with a cost of $0.42 / complete the TurkPrime Panel Fee is 0.42 * 100 = $42.00. The panel fee is determined by the incidence rate of your particular panel so that harder to reach demographics cost more…but are capped at a maximum of $0.75 per complete.
In addition, TurkPrime displays the feasibility of the study to run to completion. This is not a guarantee that the workers will take your study. since the MTurk workers, ultimately, decide whether they will accept and complete your study based on many factors including worker payment, requester rating on TurkOpticon and clarity of your study, among others.
If you want to be certain your study will run to completion we recommend using the TurkPrime Lab Services of either Prime Panels or MTurk Panels where TurkPrime manages all user interaction, reaches out to workers to complete your study and guarantees the study will run to completion.
Studies with MTurk Panels will display the panel traits in the study dashboard along with a tag marking it as a panel study, as shown below.